WeatherJapan, an app for both iOS and Android, has been updated to add a link to the JMA's multilingual information page
While there is a lot of disaster information available in Japanese, there is not much information for foreigners visiting or living in Japan, and it is not easy to find. Therefore, the WeatherJapan app has added links to the JMA's multilingual information pages to provide helpful information.
※ 日本語での説明はページ下部へ掲載しています。
Here is the link that can be accessed from the banner in the app.
・Multilingual Information on Disaster Mitigation (Choose from 12 languages)
The following screenshot is an example of the display of the WeatherJapan app for iOS, which looks like this on an iPhone,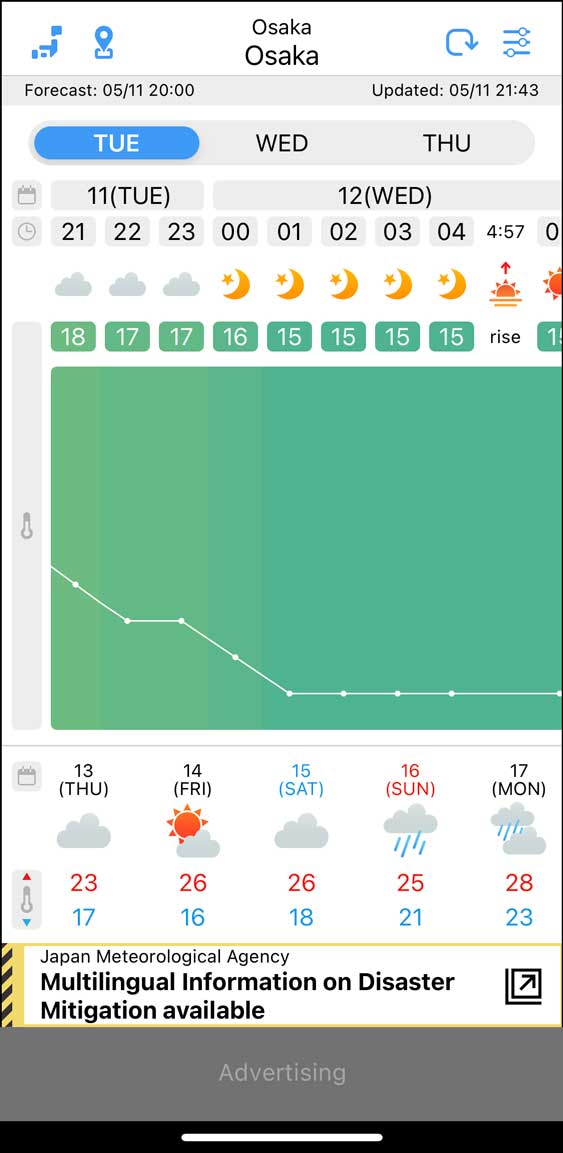 and this on an iPad.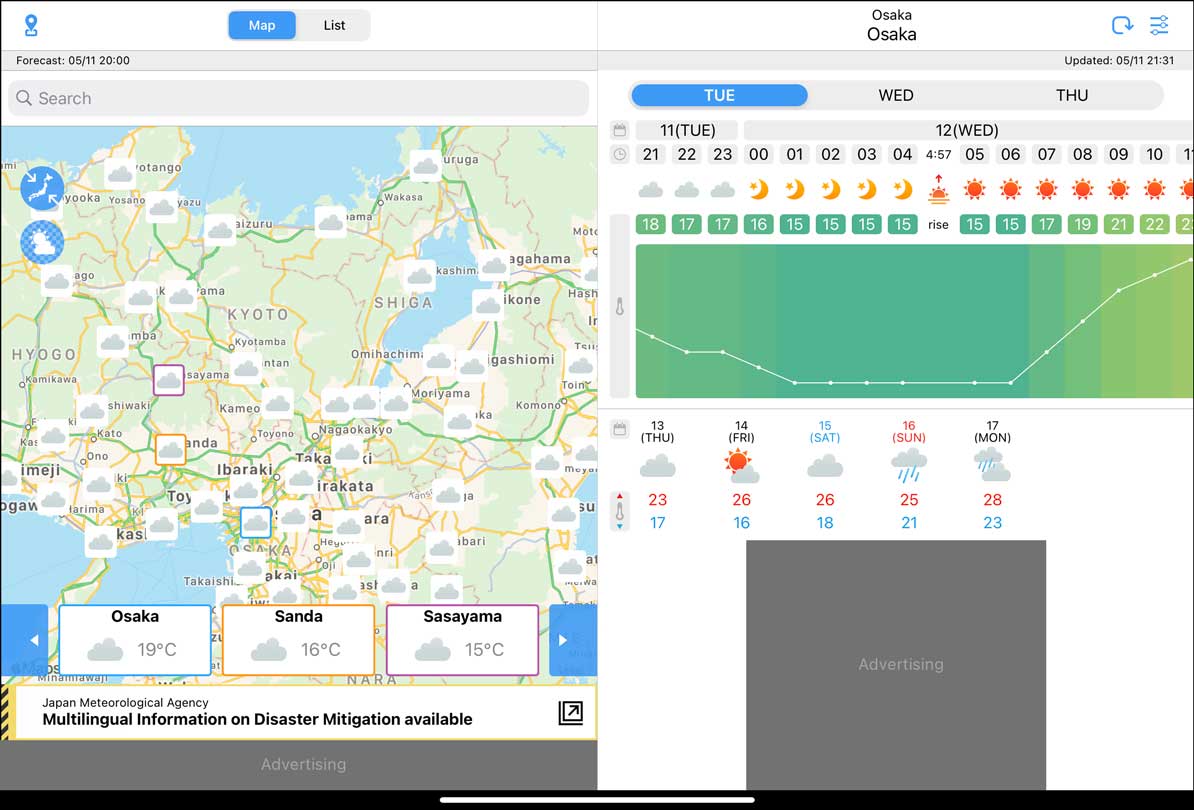 This app was originally developed for foreign tourists visiting Japan, but we believe it will also be useful for foreigners living in Japan, so please use it.
In the current social situation, it is still difficult for foreigners to visit Japan, but I hope that one day this app will also help foreign tourists again.
To download the app, please go to the following link.
The official website also has a description of the app and where to download it.
・WeatherJapan | Japan's weather forecast for tourists
↓ The following is an explanation of the same content in Japanese.
iOSとAndroid両対応のアプリWeatherJapanがアップデートして気象庁の多言語情報ページへのリンクが追加されました。
日本語の災害情報は数多くありますが、日本を訪れたり、日本に住んでいる外国人向けの情報は少なく、探すのも容易でないのが現状です。そこでWeatherJapanアプリでは、気象庁の多言語情報ページへのリンクバナーを追加し、そのような方々に役立つ情報への導線提供します。
バナーからアクセスできるリンク先はこちらです。
・気象庁多言語ページ | 言語選択(Multilingual Information)(日本語を含む12言語から選択できます)
次の画面は、WeatherJapanアプリiOS版の表示例ですが、iPhoneではこのように表示され、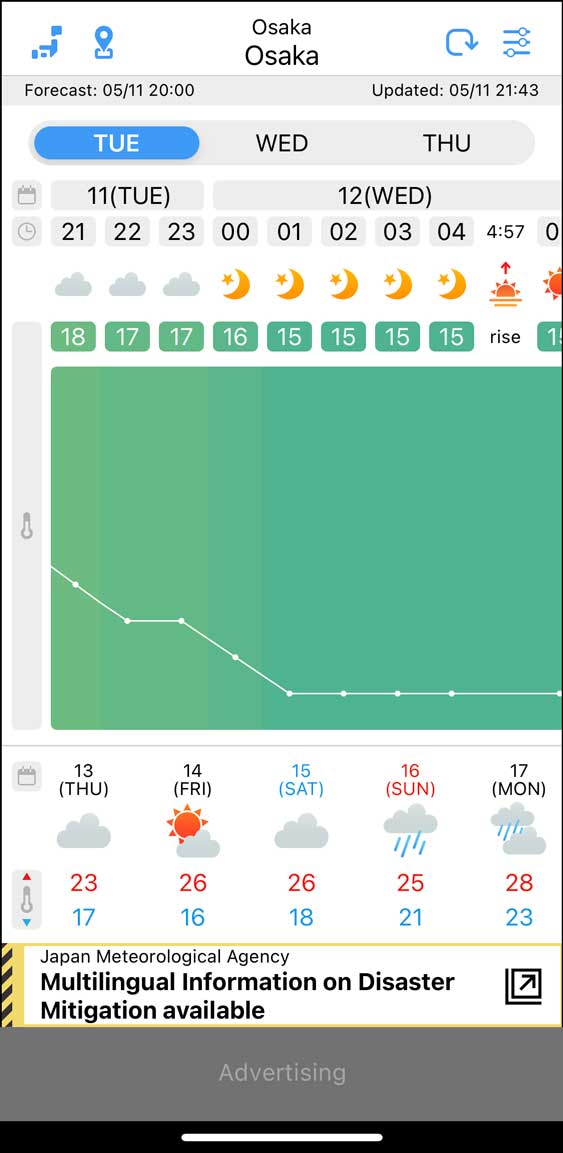 iPadではこのように表示されます。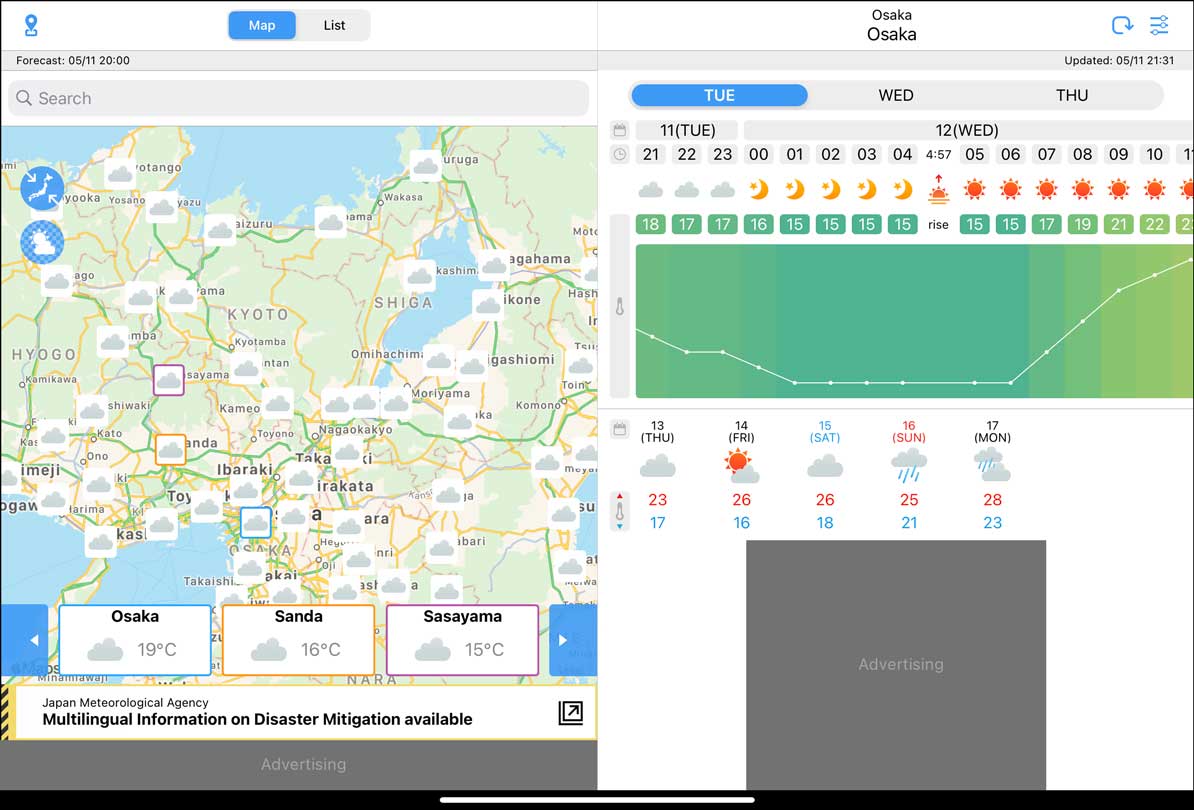 このアプリは日本へ訪れる外国人旅行者のために開発されたものですが、日本国内在住でまだ日本語が堪能でない外国人の方などにもお役立て頂けるかと思いますので、この機会に是非ご利用ください。
現在の社会状況では、海外の方が日本を訪れるのはまだ難しいですが、このアプリがまた外国人観光客の助けになる日が来ることを願っています。
アプリのダウンロードは次のリンク先からどうぞ。
公式サイトでもアプリの紹介とダウンロード先を掲載しています。
・WeatherJapan | Japan's weather forecast for tourists